CLAY SHOOTERS — GAME SHOOTERS, TAKE ADVANTAGE OF MY SPECIAL OCTOBER OFFERS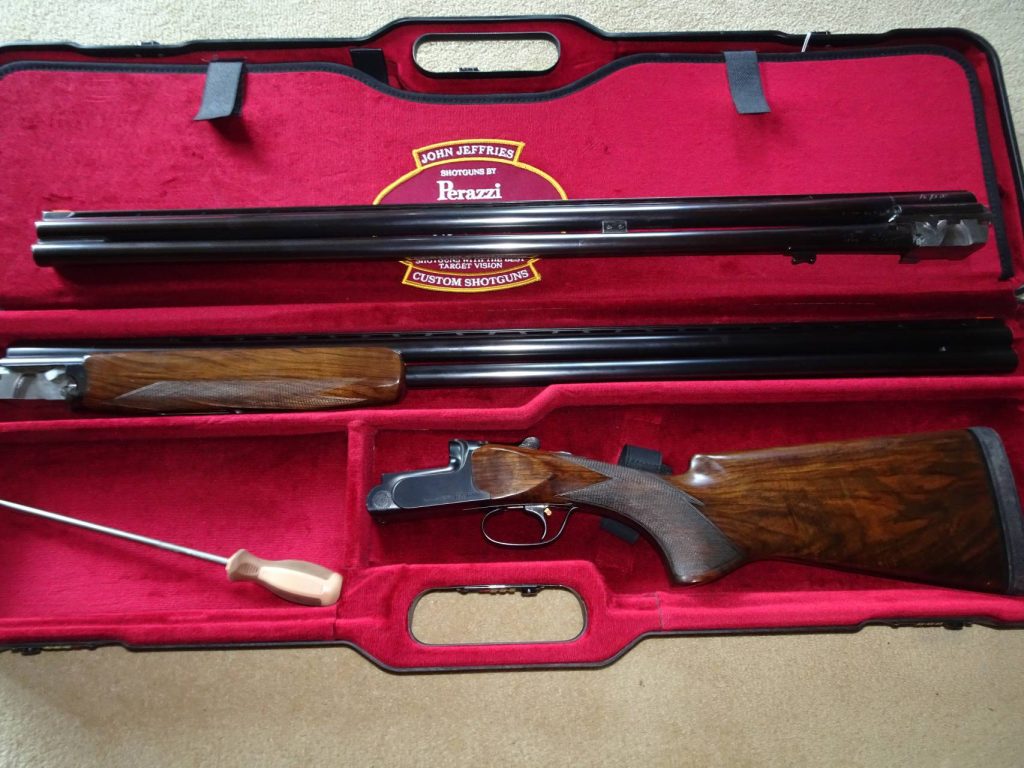 Possibly due to the latest financial news and also to do with the fact that I have a few too many second hand guns, I am doing some great prices in October. The marked prices are how they have been for some time but for October, make me an offer 'I can't refuse.' All sensible offers considered, ridiculous offers may not get very far. Be bold, you never know there are some good guns there. Take the Beretta 687EELL or the Perazzi 31″ RSR, both very nice guns in their own right. Both STD steel proofed. All guns fully guaranteed, fitting available. Call me now. Everybody is buying Legends so several S/H guns coming in.  See more on S/H GUNS page.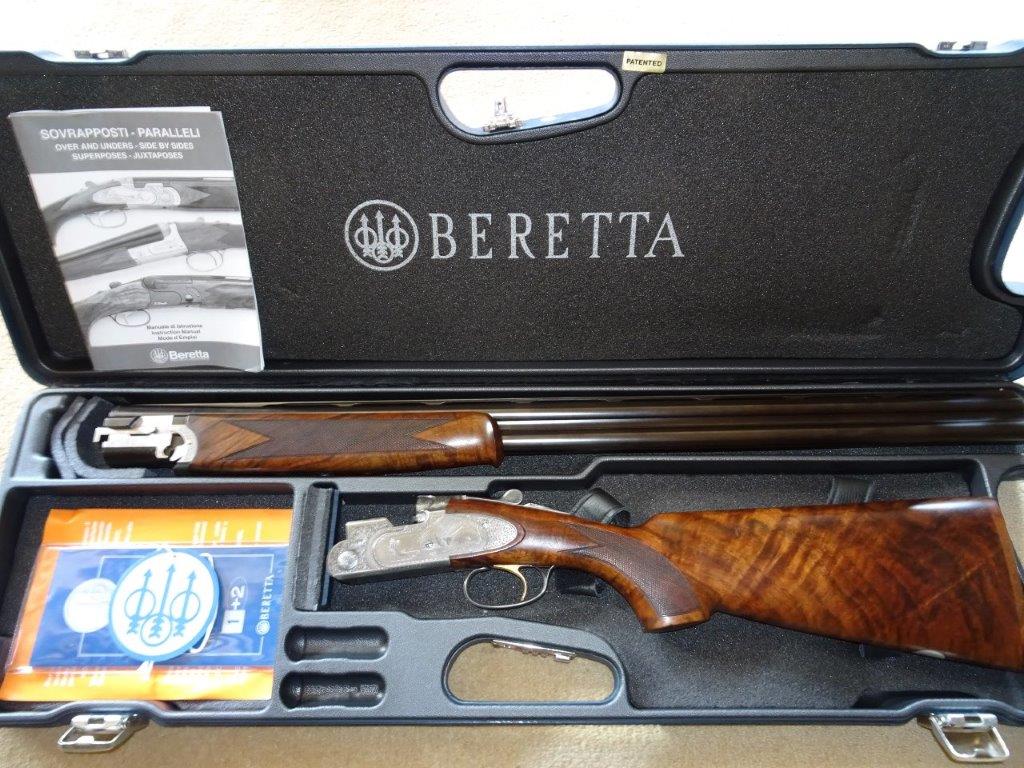 SPECIAL PROMOTION
FREE CARTRIDGES ??? It's easy!
Just send me 2 or 3 pictures of yourself shooting or handling the Perazzi Legend 2 in a shooting position along with a good shooting comment and I will give you 250 cartridges. Get your name in lights for just a little effort.
The Perazzi Legend 2 – A new standard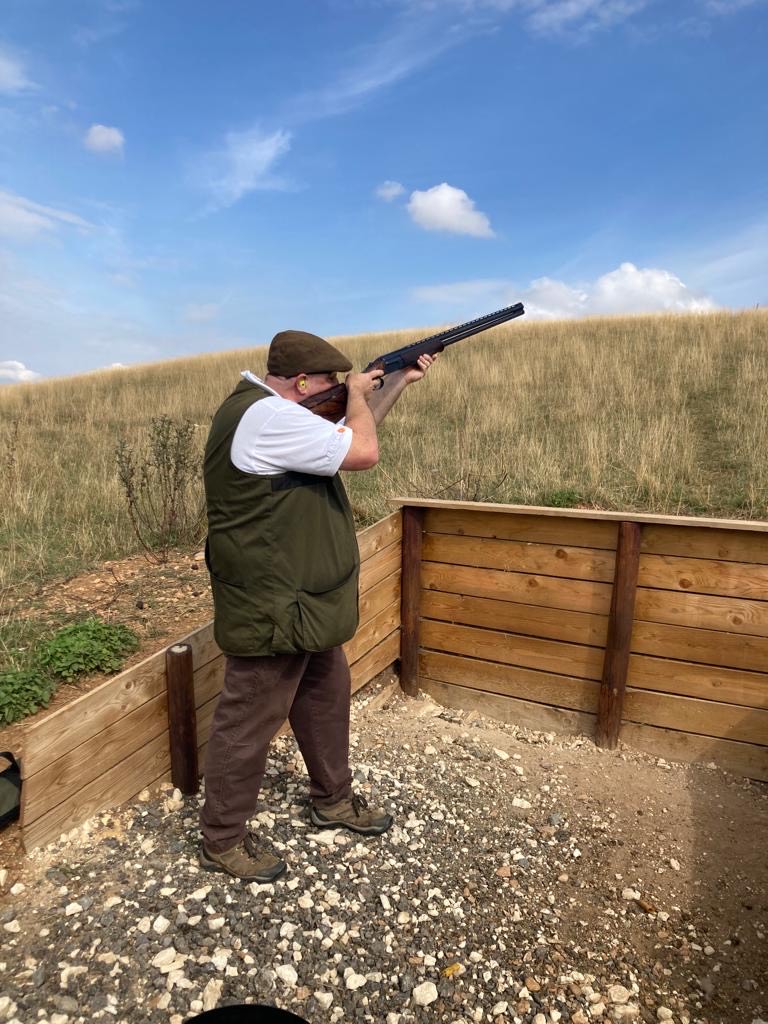 Good afternoon John
We spoke last week regarding the choke markings on my recent purchase of a 2nd hand 34inch hpx 12 bore from Bill Elderkin.
I met you at Grimsthorpe a few years ago for a fitting, and was lucky enough to be able to try one of your demo guns and couldn't believe how balanced it was.
Having known Bill for many years, he let me take the gun for the weekend where I duly took the opportunity to see how it performed on a testing simulated day in an old iron quarry,
I can truly say that I have never shot so well at simulated game, the kills were beyond my wildest expectations, this is no exaggeration this gun has improved my scores by 20%.
Shooting is about having confidence and this gun gives you that and more.
I have owned many guns in my life but nothing can compare, the design and development has paid dividends and that's credit to time effort and energy that you have put in.
If you want a high bird gun that doubles up for shooting simulated game I would recommend speaking to John, you won't be disappointed.
Kind regards Karl Dyke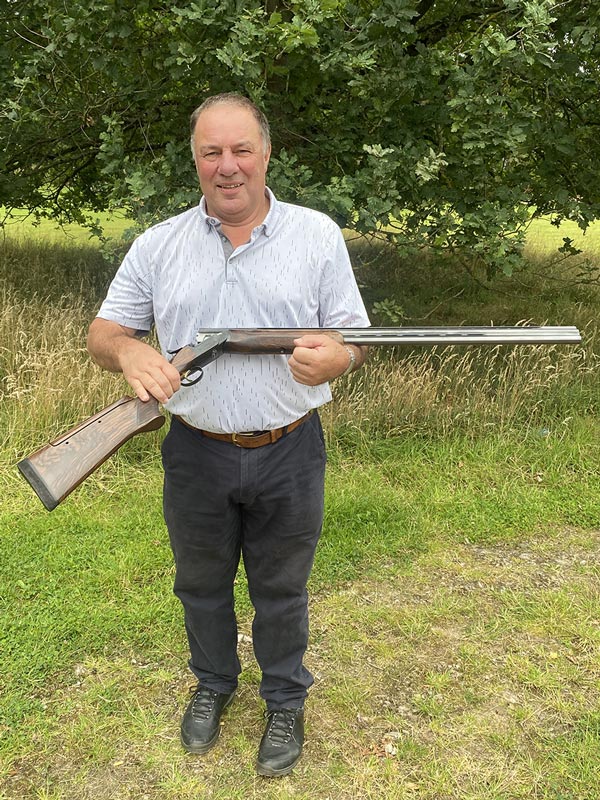 IT'S LEGENDARY!
The new Perazzi HPX Legend is causing a real stir
England team member, Phil Rowbottom with his new Legend. Phil took possession on 30th July and has already put in some good scores. 89/100 first time out.
The Perazzi Legend 2
A new standard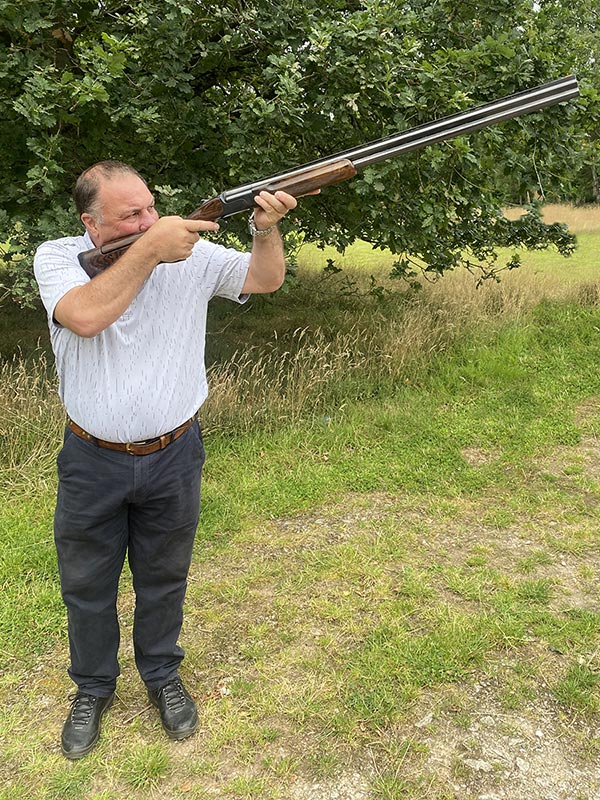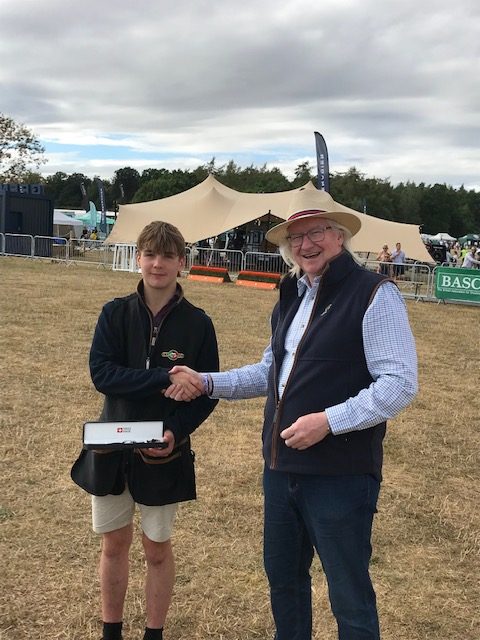 WOW Archie!
Not bad for first time at a major competition.
I'm very proud to announce that my grandson, Archie Alexander, took possession of his new Legend just before the Gamefair and then went and won the juniors sporting at this event on his first time out to a big national competition.
Congratulations to him and watch out clay shooters, you may see a bit more of him soon. Archie had already been using my Legend demonstrator locally near his home in Norfolk where he has had a few local and county wins but the Gamefair win is a great achievement. Well done.
The  Legend makes its mark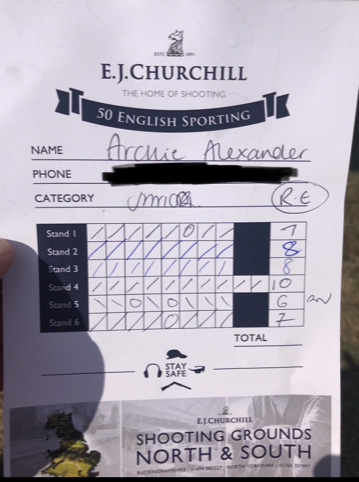 SO, WHY BUY MY GUNS?
Here's 6 of

THE BEST

reasons
THE BEST TARGET VISION OF ANY SHOTGUN.
2. THE BEST GUARANTEED GUN FIT YOU CAN GET.
3. THE BEST BALANCED GUNS FOR EACH PARTICULAR SHOOTER.
THE BEST TUNED AND TWEAKED TRIGGERS AND ACTION
THE BEST QUALITY ENGRAVING AND WOOD
THE BEST GUN MANUFACTURERS CURRENTLY AVAILABLE
OVER 400 OF MY GUNS SOLD
SIMPLY, THE BEST !!!!! To find out more, read on.
SO, WHY BUY MY GUNS?
Here's 6 of

THE BEST

reasons
1
THE BEST TARGET VISION OF ANY SHOTGUN
2
THE BEST GUARANTEED GUN FIT YOU CAN GET.
3
THE BEST BALANCED GUNS FOR EACH PARTICULAR SHOOTER
4
THE BEST TUNED AND TWEAKED TRIGGERS AND ACTION
5
THE BEST QUALITY ENGRAVING AND WOOD
6
THE BEST GUN MANUFACTURERS CURRENTLY AVAILABLE
OVER 400 OF MY GUNS SOLD
SIMPLY, THE BEST !!!!! To find out more, read on.
For the last century or two, the perfect shotgun has been the goal of many shooters and sportsmen.  Today, there are numerous manufacturers chasing the goal of beauty and performance: more so than ever before, as the targets, both clay and game, become more difficult and challenging.  Many years ago, I believed that there were improvements to be made on some traditional designs, and during the 80's I first started to present to the market some special designs and ideas (I was the first to present 32″ sporters to the market) which are still revered today.  Continuing on that theme, my latest designs and creations have taken shotgun design and performance further forward towards the ultimate, the results being universally accepted as great achievements in presenting the very finest weapons both for performance and pride of ownership too.
Target vision, balance and poise and ease of handling are all serious criteria in my designs and these points coupled with great looks makes for some of the very best shotguns available today.  My designs have received many favourable reviewers comments, (one reviewer commenting 'maybe all guns should have been designed like this') and the continual user response showing how my guns have assisted many shooters is a testimony to their success.
Couple all these important points and considerations when looking for a new shotgun with some of the worlds best manufacturers and your goal will be reached.  A quote from another top UK reviewer, "John's guns make it so easy to shoot" – quantifies my claims and unique selling points in just a few words.
MY GUNS JUST SHOOT BETTER.

Yes, three of the best makes currently available, offering all the best manufacturing techniques and incorporating great build quality. From manufacturers with many years experience presenting a choice of top level aesthetics, superb engraving and great wood, all coupled with my unique designs and services culminating in enhanced performance, balance, finesse and great shootability.
The models within these manufacturers incorporating my designs, the RSR, DSR, HVR, SR1 and now the amazing new Legend 2 give you the widest choice available today for top performance guns; and of course all offering the best target vision possible which is well acknowledged for all my designs, making them a must consider when you are looking to upgrade or to just improve your shooting at whatever level you currently shoot.
All my guns come with a complete and guaranteed perfect fit, done differently to most other suppliers as all new guns from me arrive in the white and are then tuned to perfection on the test range whilst you are shooting. This is the only way to achieve perfection (much better than going to any factory), after which any final finishing and oiling by my gunsmith then produces the best results possible. Extended guarantees and a free service after the first 12 months of use are also another benefit on offer.
So, why look any where else. The best fit, the best handling, the best performance and the best looks. A John Jeffries custom gun gets you the best you can get, WITHOUT COMPROMISE !!!
Take a look at ABOUT CUSTOM GUNS for further information.
READY FOR A NEW CLAY GUN?
Treat yourself to a new gun for 2022. I have a few new guns coming through the factory at present without stock specifications which can be added just prior to shipping which will greatly speed up delivery. I have an RSR and an HVR and 3 Legends coming through. Call me for details and availability.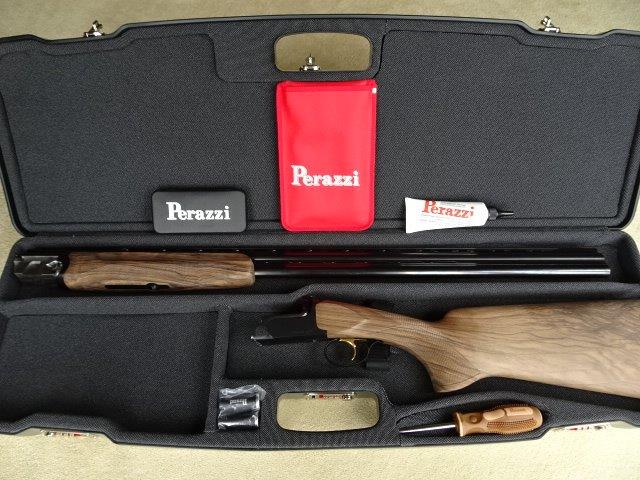 PERAZZI OR P&V
QUICK SERVICE
If it's an emergency and you need a quick turn round on a gun repair/service, I can generally do this while you wait. Full and efficient service of all parts in a booked time slot taking just about an hour. More time may be required if there is anything seriously wrong. Full aesthetic overhaul and or trigger adjustment also available. Call for time and details.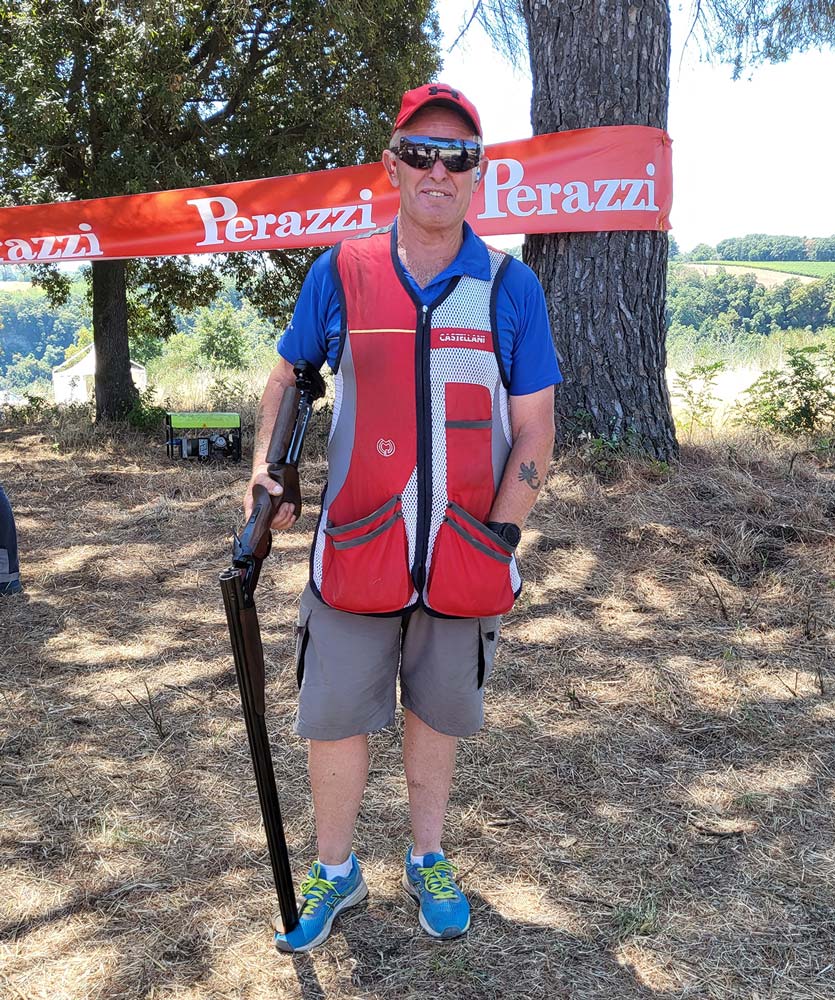 KENNY'S OFF AGAIN
Here's a picture of Kenny Bennett with his new Perazzi Legend 2. He is just one of a few shooters now enjoying the Legend's benefits. My grandson Archie is also doing pretty well with his new Legend, turning a few heads in his local club and shooting at the gamefair on the 29th. Watch this space.
ADVANCED? SOMEONE THINKS SO!
Click here for the latest review of the fabulous Salvinelli Advanced RSR. Your best entry into the serious
world of shotgun shooting.
"I cannot recommend highly enough that you check out the RSR, you won't be disappointed"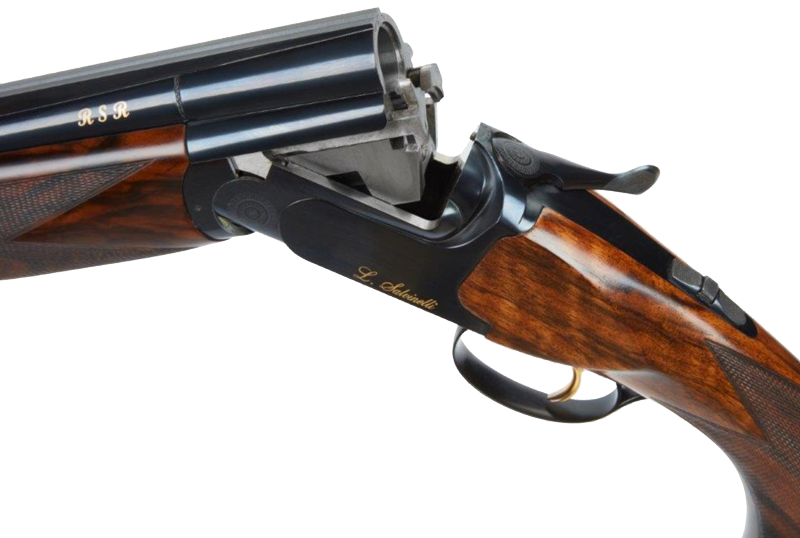 "shoots like a dream and will increase your scores"
ADDING 2″ BY USING EXTENDED CHOKES GIVES AN ADVANTAGE?
It's not Recommended.
Brexit Blues Banished! (Hopefully)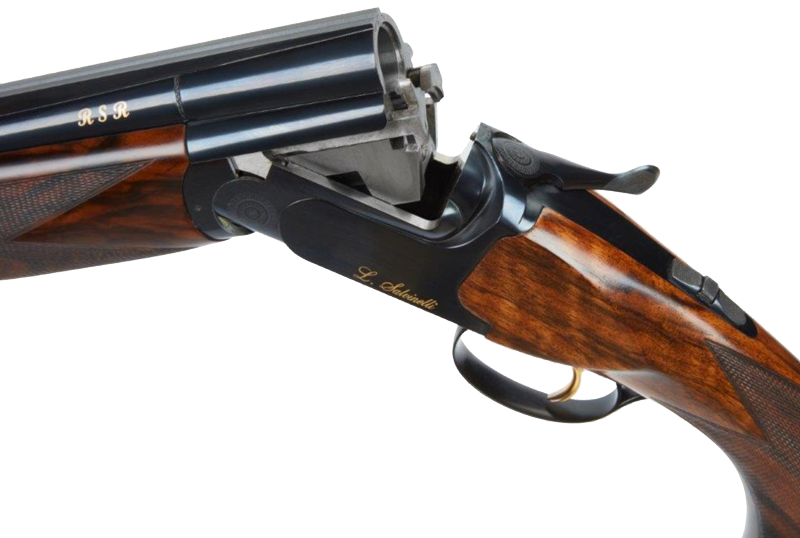 ADVANCED? You had better believe it. This fabulous new gun launched earlier this year has really taken off with many satisfied customers shooting it very well. It is unusual in such a modestly priced gun like the Salvinelli Advanced RSR to get such good wood quality which has really cemented this superbly handing gun well on to the market. Triggers? Another revelation well on the heels of Perazzi and P & V, they leave nothing to chance. This entry level top performance model offers an exceptional custom made, custom fitted and specially designed gun offering all my special advantages at a very reasonable price. Don't forget to read the review at the top of this page. Let's see you on the rostrum soon. It's great for bringing those high'ns down too.
Don't forget, all my guns have the best target vision possible and they just shoot better too.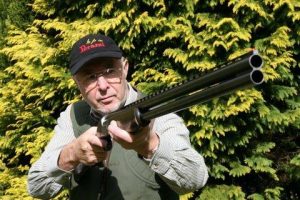 Many thanks to many of my customers who have recommended my guns to their friends which has resulted in some nice extra sales. Over the last few years, media advertising has less effect than in the past and my trips to shooting grounds around the UK still is my best way of getting out to interested shooters.
I am raising my 'Referral & Commission' stakes to anybody recommending a customer that materialises in a sale, a cash bonus of between £250 and £1000 depending on the model.
No quibble, no excuses. If the sale goes through the bonus is yours. Call me for details.
STOP PRESS! THE BEST 20 GAUGE EVER?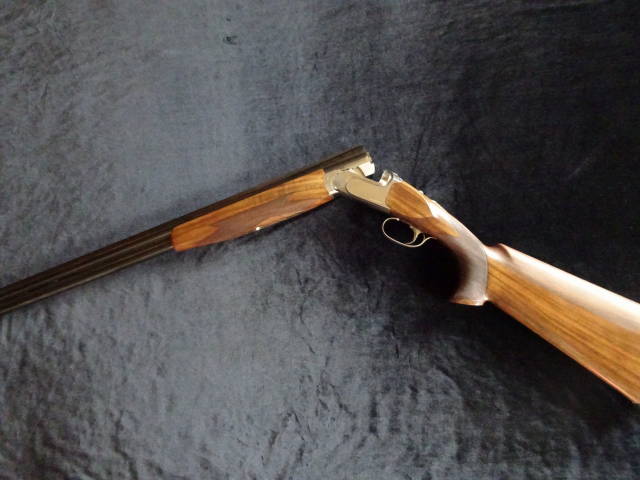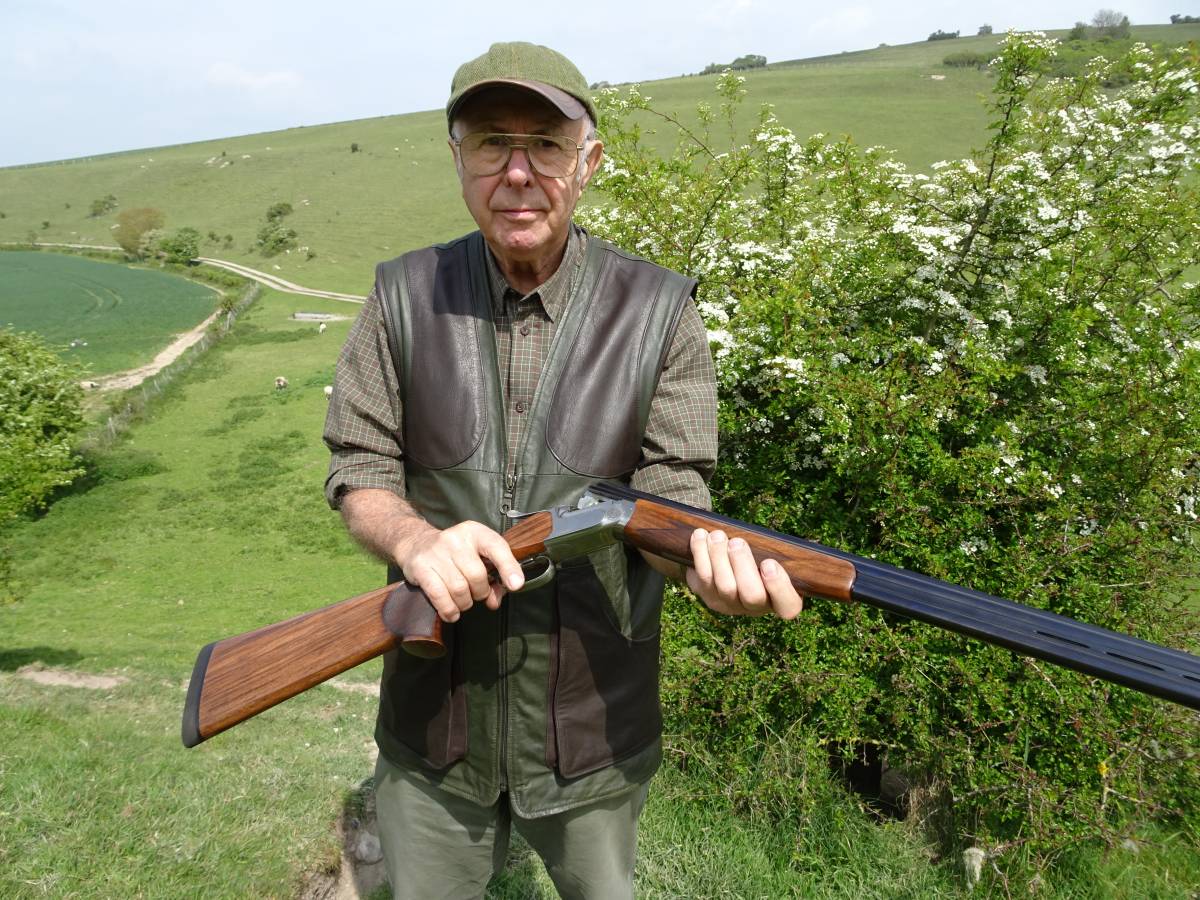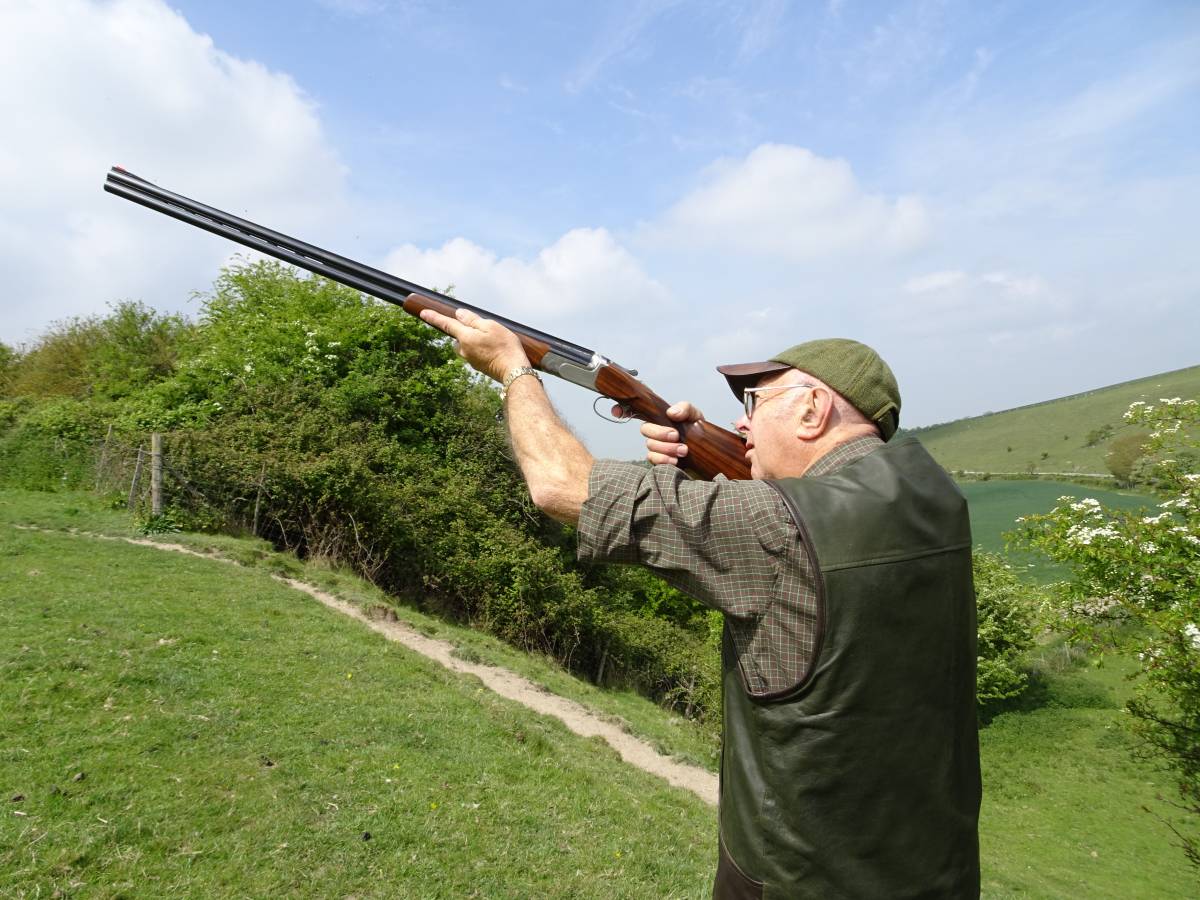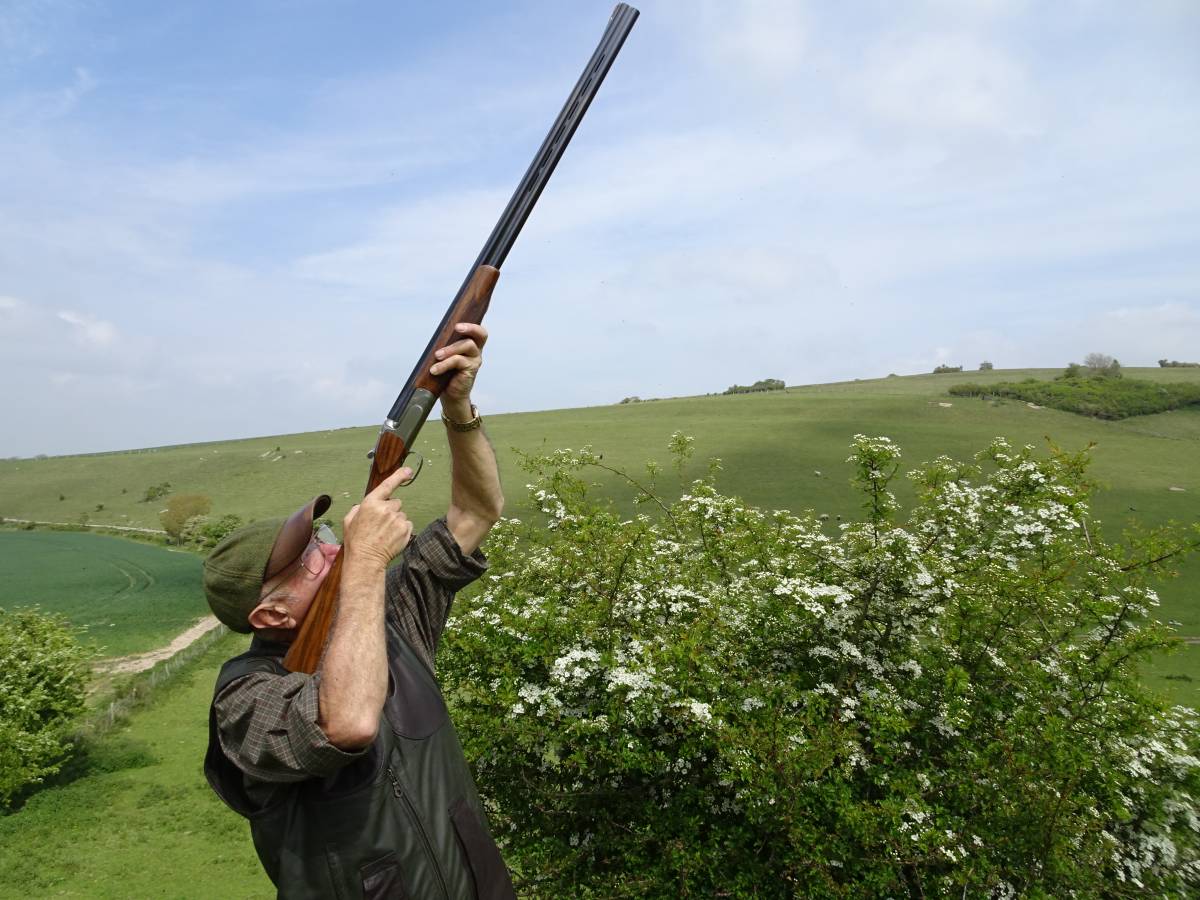 Over the years I have heard people talk about extending their barrels by fitting long multichokes, and of late I have had a few customers asking me to do this so that they end up with a longer gun, making maybe a 33″ from a 31″ or a 34″ from a 32/33″, measurement wise. Their thinking is that they don't need to go down the longer barrel route to start with as they can add length later. This is a total myth and totally wrong. Longer barrels are not fitted or used just because they measure longer in some way or another, they are fitted or used because they offer better pointability, steadiness and target vision. Adding 1-2″ of multichokes does nothing at all except alter the chokes (and maybe add a little weight although multichokes are pretty light nowadays). To appreciate what longer barrels do and gain the benefits from them, your eye needs to see and register on the top rib being longer. With multichokes, you can't see anything different when shooting so the correlation with the target is no better. The question still remains, will you shoot better with longer barrels ? That is still personal and is still down to how a particular shooter performs, some making great use of longer barrels and some not so convinced. I have found that my 33's offer just about the best compromise, albeit I still shoot 34's myself and struggle to make good sense of anything shorter. I can supply any length but do try the longer ones first. You may end up like 90% of my customers in going down the longer route. If you really want to go over the top, you could go down the 34″ route and add some 2″ multichokes. You would need a new gunslip though and won't shoot any better either.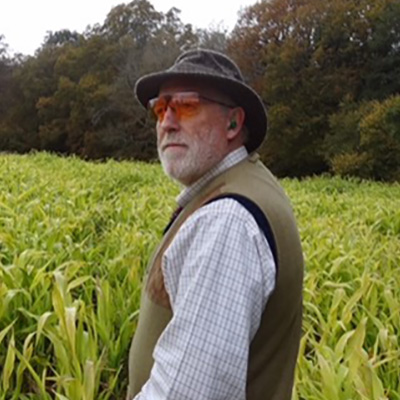 Steve Pinchin
1957 – 2021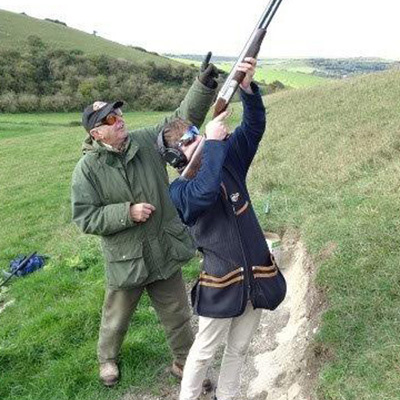 Archie Alexander, October 2021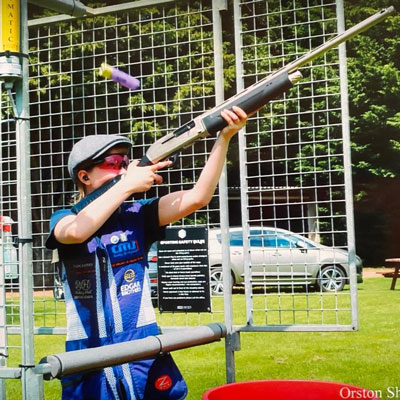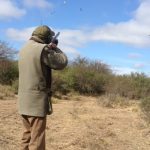 HVR20, it can't get
better than this