BIRTH OF A NEW LEGEND
The Perazzi HPX Legend 2 has arrived and after some initial trials I believe it promises to be an exceptionally special shotgun design and hopefully you will think so too.
I have for many years had the belief that some of my special rib designs, which allow for superior target vision, are a great advantage. When coupled with several other of my original ideas, (stock, forend ,grip etc) they have already attracted great comments and great favour from many shooters worldwide. So, how do I take this further and continue to attract the serious shooters?
ENTER THE COMPETITION! – INTRUCTIONS IN BOX BELOW
Two of my rib designs have excelled in their good shooting reputation with many customers worldwide acknowledging their advantages so I have combined those two designs, the RSR and the SR1 on to this new Legend, and the results are rather special!
I'm tempted to go overboard about the first results I am getting straight out of the box, and if this experience is anything to go by, I have a real winner! I am well aware of 'new gun syndrome' so hopefully in the not too distant future, more proof will emerge to back up my excitement.
Basically, it has even better target vision and improved point-ability and it combines these valuable features with the renowned balance and poise of all HPX guns. It's just an incredible joy and pleasure to shoot.
I am so confident that The Legend 2 is very special and you will also find its merits so quick to perceive and benefit from that I am going to run a little launch competition.
Come and have a go at my 50 straight challenge on my mid height multi vary-stand using my demo Legend 2 that will be fitted to you. These targets are very normal shown at a good speed, quite challenging but also very hittable. I would love to see a few winners. Shoot 50 straight (single shot use) and win £150 straight in your pocket or £1000 off a new Legend.
Yes, £1000 off a new Legend 2!!!
Competition Entry:
£25 for each 50 target entry, £45 for 2 entries including 10 extra warm up clays for each entry. Cartridges (fibre only) extra.
Shot in 2 x 25's.
Come and give the Legend 2 a try. It might just be the perfect gun for you too.
Call me to book your appointment just to try or book for the competition now. 
THE PERAZZI LEGEND 2 — SIMPLY THE BEST JJ
Minimum entries to start competition 10. (As of 27/6/21 3 booked.)
Each entrant to allow an entrant's picture and recorded score and make a gun comment for my web site.
Maximum 2 entries per person.
Confirmation to be made by email.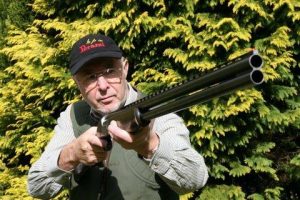 Referral and Commission
CASH IN YOUR POCKET!
Many thanks to many of my customers who have recommended my guns to their friends which has resulted in some nice extra sales. Over the last few years, media advertising has less effect than in the past and my trips to shooting grounds around the UK still is my best way of getting out to interested shooters.
I am raising my 'Referral & Commission' stakes to anybody recommending a customer that materialises in a sale, a cash bonus of between £250 and £1000 depending on the model.
No quibble, no excuses. If the sale goes through the bonus is yours. Call me for details.