NEW GUNS WAITING FOR YOU

Shotgun for sale in sussex
All new guns sold except one Salvinelli. There is still one shotgun for sale in Sussex: One Salvinelli Advanced RSR shotgun is still available and ready to be customised to your requirements. Any new guns ordered from now will be delivered in 2022. Several pre-ordered 2020 new guns arriving now so there are a few second hand guns coming available. Watch the second hand guns page.
As mentioned elsewhere on this website, new guns are taking a little longer to come through so I have a few different models from all my special versions of Perazzi and P & V guns pre-ordered and partly finished and now waiting in the factory. All the guns waiting in Italy are 90% finished apart from stocks and forends and in some cases, engraving as well. Using this system speeds up delivery by a considerable time and as long as I have the gun of your choice sitting there, you may be able to take delivery much sooner than expected. Your specifications are then added to these guns and any other requirements are also applied before shipping and especially for the game shooter, I can have you up and running for this coming season if you're quick. Take a look at the list below and maybe I can fit you up easily.
READY FOR A NEW CLAY GUN?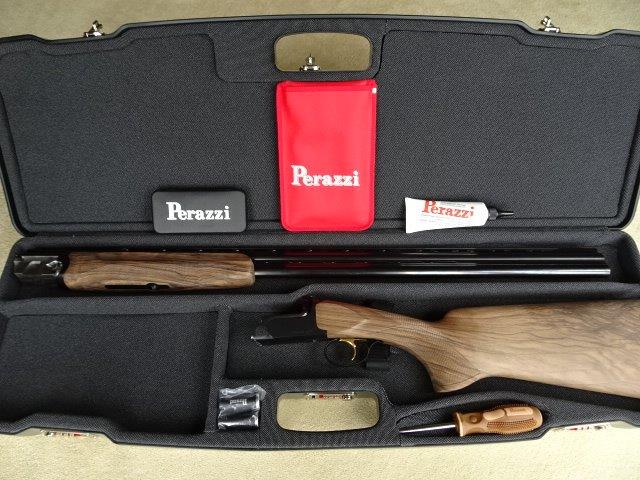 Treat yourself now to a new Perazzi DSR for the coming season. Just arrived and ready to be fitted to a new customer (stock and forend unfinished) a beautiful unfired example of my best shooting Perazzi 33″ DSR clay gun. Used and loved by many, this is the best top performance Perazzi clay gun money can buy. Current stock can be finished to most normal fittings or new stock can be supplied if necessary. A gun for the discerning shooter.
SALVINELLI Shotgun for sale

1 X SALVINELLI ADVANCED RSR.
New unfinished model but available immediately, one only 33″ GAME/SPORTER. Read the review to see how good this gun is thought to be. Available now with final stock work to be completed here in the UK. Great handling, great performance, great value. Call for details.
NEW GUNS AVAILABLE FOR DELIVERY THIS YEAR
As per my usual policy, I have a few guns ordered to speed deliver up coming through the factory for delivery during this year, same available in time for 2021 clay season and some will be ready for the game season. They are waiting for your stock measurements so this process speeds up the normal delivery time which is 10-12 months.
I have
one Perazzi RSR 33″SC3 GAME/SPORTER with scroll engraving,
one Perazzi 33″RSR GAME/SPORTER
and one DSR 33″CLAY gun waiting for you.
Unfortunately there is a price increase for this year but all of the above 3 guns will come in at last year's price. Please call me for more details and price. As usual, fully fitted with new woodwork, extended guarantees and tweaked and balanced to perfection.