Shotguns
with the Best
Target Vision
Custom guns, and the range explained
What are the two most important points when purchasing a new shotgun? Gun Fit and Target Vision.
Of course there are many other factors that make a good shotgun: balance, triggers, stock shape, barrel length, boring, choking etc but I believe there are two points that stand alone to enable you to achieve your very best shooting and they are pretty obvious. Target vision and gun fit. If you can't see the target properly, you won't hit it properly. If your gun doesn't fit properly, you also won't hit the target properly either. GUN FIT is well documented and pretty obvious that it must be correct. I believe that to achieve the best gun fit possible, final shaping and adjusting the stock must be done in the field. It just cannot be done in a workshop, high street shop or factory. All my guns are delivered with the stocks and forends in the white — unfinished. I then take all my customers to a shooting range (preferably my shooting range in Sussex where we can spend more dedicated time) where final tweaks are made before it is then returned to my gunsmith for polishing and oiling. TARGET VISION is mainly down to the top rib and there have been many attempts to allow the shooter to see the target better with innumerable designs, modifications and features that have boasted an advantage. I believe that I cracked this problem some 30 years ago when I built a prototype RSR rib to go on to my original Perazzi DG2 at that time. It worked very well but due to production reasons, I never brought it to the market. My Perazzi HPX guns were conceived in 2007 and although I still did not bring my original rib design to the market, I did use what I still think is the best adaption of a conventional rib design, the SR1 to launch this new range. During the last 10 years I have worked hard on developing a better rib always looking for better target vision when shooting a shotgun and some 5 years ago I first introduced the Perazzi HPX RSR which was the first design to really take my ideas to a new dimension. The RSR- Reverse Slope Rib, allows a higher head position raising the master eye some distance above the breech of the gun. This on any other conventional gun would present the point of impact higher than the point of aim. With my RSR rib, the target vision is highly superior to that of a conventional gun and point of aim equals point of impact — the results becoming immediately apparent once the first few shots are taken. My high vision shotguns do NOT shoot high. The RSR over the last few years has proved itself to be universally accepted to be much more than a marketing ploy as it really does improve shotgun shooting – just look at my testimonials page to see what many customers think! During 2014, I wanted to raise this design further especially targeting the clay shooter and I introduced the DSR – Double Slope Rib. This design again requires a higher head mounting position but elevates the master eye even further away from the breech. The DSR has been accepted very strongly within the clay circuit, great comments and testimonials having been received during the last 3 years. The DSR is a little heavier than the RSR which is sometimes preferred by the game shooter and it also has aesthetics that are slightly more acceptable in the game field. The DSR is slightly better suited to clays. Lastly, in 2015, I took my design ideas to the very extreme and introduced the HVR – High Vision Rib. (PATENT GRANTED). After the last 12 months of testing and tweaking this design I believe that the HVR really is something very special. Not accepted by everybody as it's appearance is somewhat controversial but for those shooters who want performance first above everything, take a serious look at this exceptionally innovative design. It is equally at home in the game or clay field and although yet to be fully proven on truly high pheasants, all shooters trialing this new design on my high targets at my shooting range in Sussex have been puzzled and amazed as to how it makes hitting them comparatively easy. The best high bird shotgun ever designed? possibly. Come and try for yourself!
---
STOP PRESS!
HVR PATENT GRANTED I am pleased to report that the patent application for my HVR design has gone through its normal time scale and it has been approved by the Intellectual Property Office, patent number GB2547218. This design has now been received exceptionally well by both the clay and game shooters and already has a substantial reputation for delivering a performance and target vision superior to other designs. If you are thinking of upgrading your gun and shooting performance, come and try this design and experience what the HVR has to offer.
---
Within my range described above, I can supply all barrel lengths, (although I am well known for my long barrels which when balanced properly I believe are another step in the direction of easier shooting) 12, 20, or 28 gauge, any aesthetic requirements from standard finish right up to the highest grades of engraving possible and of course, a guaranteed perfect fit done my way, in the field whilst shooting. You can't get a correct fit in a shop or standing behind a counter in a factory, you have to shoot your gun before it is tweaked to perfection on site whilst shooting a moving target. Come and have a free trial of any of my guns (6 demonstrators available across all models) at my range in Sussex and see if they work for you. They have worked for a great many customers.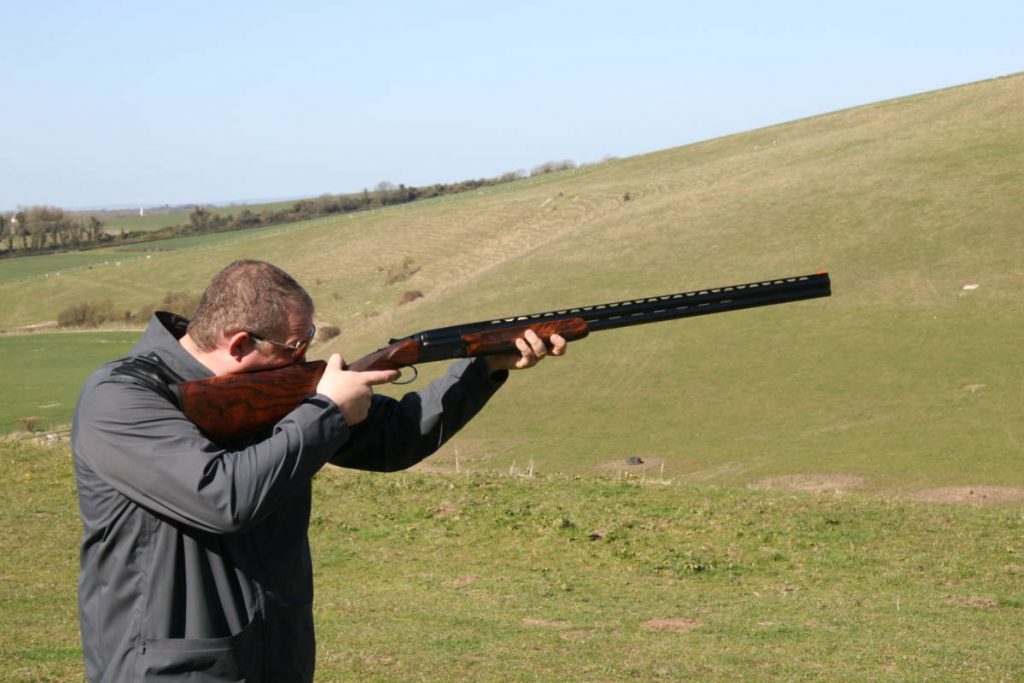 Most top shooters can shoot pretty well any gun as long as it is tuned, balanced and perfectly fitted to their particular requirements. However, most top shots will also shoot a particular type of gun better than another. This is based on weight, sight picture, speed of handling and most of all, good timing and gun rhythm. My guns come in several different forms and different types to then suit various preferences and performances.
---
The Perazzi SRI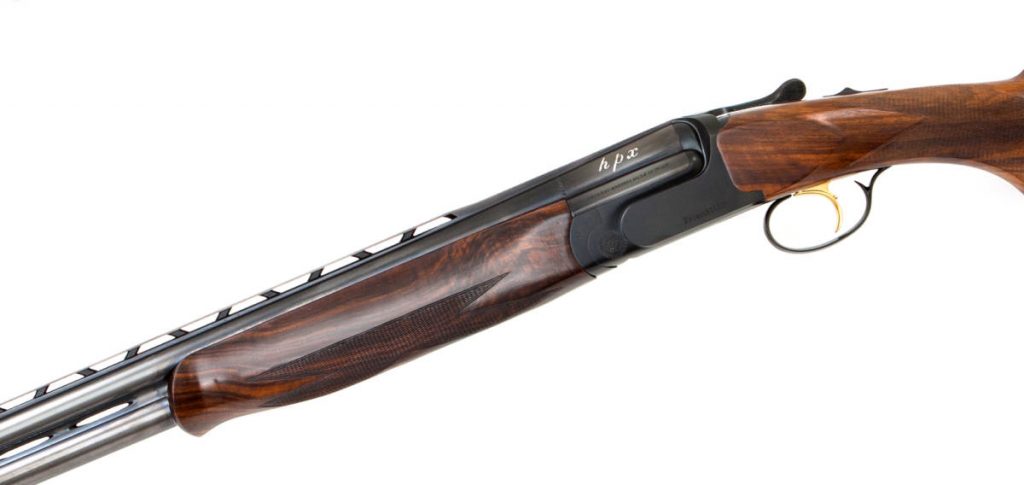 This is now the only gun in my range of guns that comes with a fairly conventional top rib that offers a sight picture that many experienced guns are familiar with. The head or sighting view of the SR1 should maintain an eye position of about 2-3m just above the rib when the gun is mounted snugly into the cheek. Looking dead flat along the top rib is in my opinion, incorrect and although it can be effective on closer range targets, it will let the shooter down on longer targets when it is important to see more of the target and exactly what you are doing. The SR1 has a very effective short ramp at the breech which also aids the target vision to some extent.
---
The Perazzi RSR
This was my first exclusive and unique rib design allowing the shooter to see much more of the target and have a far greater peripheral vision. The RSR is now very popular and once accepted and trusted it offers a far superior target vision than any other shotgun currently available. The head position with the RSR is raised approximately 5-6m above the breech face but although hard for some to accept, with this vision it will not shoot high. As you can see in my testimonials, this design really works and will generally give the shooter between 5 and 10% advantage over the SR1. 5 More targets hit out of 100? that is well justified.

---
The Perazzi DSR
The RSR above is designed as an all round gun perfectly at home on game or clays but for the serious clay shooter the DSR has a slightly different approach. This design uses the RSR principle but it is designed to be heavier, steadier and a little more controllable which can benefit the clay shooter. It is still very pointable and swings easy but the raised part of the rib allows a slightly more positive connection with the target. The head positon is a little higher than the RSR resting approximately 6-8m above the breech.
---
A new classic is born

Working closely with the factory we have been able to produce a new model the Perugini & Visini Lightweight Game gun either in the Elite or Suprema models. Available in 30 – 34″ barrels, this gun is a real classic for the shooter who demands top performance but requires a lighter gun. A real CLASSIC gun with all the special features of the RSR or HVR (PATENT GRANTED) ribs but at a reduced weight of between 7lbs 5ozs to 7lbs 10ozs depending on barrel length. Handles like a dream.
---
The Perugini & Visini RSR/D
A variation on the theme here using a little from the HVR (PATENT GRANTED) and the RSR designs. The main section of the rib is in RSR configuration but the breech end has a small dip just in front of the breech. This is my personal favourite for game shooting and I have found it to be incredibly effective on all targets, the longest being made a lot easier. It is incredibly pointable and quick but steady too and because of its superb focus it is a joy to use on the highest of targets.

---
The Perugini & Visini DG2 RSR
You will find other references to the DG2 on this website, my first design and development in superior shooting shotguns from the 80's some 35 years ago. The original DG2 has enjoyed amazing success over the years and there are many users who are committed to this model for life. However, I wanted to bring it into this century. It now has the same short ramp section at the breech as did the original DG2 which then culminates in an RSR section right up to the muzzle. This design is again, very pointable offering a superb sight picture but it is also slightly more conventional for the traditional shooter. Hopefully, alongside the RSR/D, this model will become a reference just as the original did many years ago.
---
The Perugini & Visini HVR

(PATENT GRANTED)
Patent applied for. This takes high vision to the extreme. As you will see from the pictures, the top rib comprises a short 15CM section at the muzzle only. The sight picture offered here is quite special and controversial as there is nothing to attract the eye away from the target at all the only connection to the target being this small rib at the muzzle. The eye position has to be in line with this raised rib but once fitted correctly, the results are pretty special. Target correlation becomes very easy and as per the PERAZZI designs, target vision is superb. This design works very well for the game or clay shooter and can assist (not cure) the shooter who has an opposite eye tendency.

---

So, that's the range. All the designs are available in 12, 20 or 28 gauge with barrel lengths from 28 to 34″ and all fully customised, tuned, balanced and perfectly fitted to each particular customer. Within my range I am confident that you will find the right gun for you, there is bound to be one that enables you to achieve your best possible performance on all targets. An investment in one of my guns represents a lifetimes pinnacle which hopefully will be with you for many years. I believe my designs out handle most of the competition and are more effective in use than most others too. Come and try.
---
Target vision – why my guns stand alone
One of the most important factors in shotgun design is allowing the shooter to see the target properly and it is without the doubt that all my designs offer an excellent target vision surpassing any other shotguns currently available. Good target vision is about keeping the head in a higher position relating to the view along the rib and as long as this vision does not lead to shooting high, seeing the target better always leads to better performance. Taking this design criteria to the extreme, my latest designs, the RSR and the DSR have been joined by a revolutionary new design the HVR (PATENT GRANTED) which is amazing to use and offers a truly unique target vision. These three special designs really do allow you to see the target better and establish what you are doing more easily. From the outstanding reports I continue to receive, I am also confident that any of my highly specialized guns will really help you shoot better too. I guarantee my work as time spent adjusting and perfecting the end result ensures that it will be well within your expectations. Purchassing a shotgun from me, albeit I can not guarantee you will become world champion, does guarantee that your quest for the best is finalized and should lead to you achieving the very best performance you are capable of.
---
Customisation and fitting of other guns
Alongside my specialist shotguns and designs, I am pleased to be able to offer a full customization and fitting service for all shotguns and disciplines. My on-site shotgun fitting service is paramount to achieving your very best results and I have a full back up workshop facility to again, ensure perfection wherever possible. Balance, triggers, fit, service and complete gun overhaul are readily available. If you want to shoot your very best, let me take you as close as possible, the rest is up to you.
John Jeffries custom shotguns – the shotguns with the best target vision.